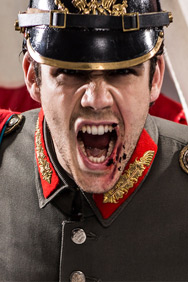 National Youth Theatre Season: Macbeth
Ambassadors Theatre
Hinta/henkilö alkaen € 31.00
Book tickets to National Youth Theatre's version of Shakespeare's dark tale 'Macbeth'

Shakespeare's darkest tale of paranoia and ambition is given a unique twist in this electrifying adaption directed by Ed Hughes. Set within an unstable Europe in the lead up to the first World War, our tragedy takes us behind enemy lines as a tormented Macbeth's servere intentionslead to dire consequences.

As empires rise and fall, this new take on a Shakespearean classic will echo present day divisions to thrilling effect.