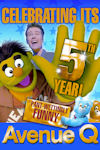 Avenue Q
Wyndham's Theatre
Lontoon hupaisin musikaali.

Avenue Q musikaali on samaan aikaan South Park ja the Muppet Show samassa paketissa. Avenue Q pyörii the Noel Coward Theatre –teatterissa ja se on yksi West Endin hauskimmista musikaaleista.

Show'n tapahtumapaikkana on myyttinen New Yorkin kortteli, jossa asustaa herttainen ja omituinen joukko: huvittava Christmas Eve ja hänen miehensä kovaonninen Brian sekä nuket sottapytty Nicky, kaappihomo Rod, itseään etsivä Princeton, rakkaudenkipeä Kate, pornon suurkuluttaja Trekkie Monster ja lutkamainen Lucy The Slut!
Avenue Q Reviews
"Brash, vulgar, sometimes downright obscene, I loved every minute of it"
Sunday Times
---
"An outrageously funny musical for the iPod generation. Cross Sesame Street with the Muppet Show give it an X rating and slap on a Government Health Warning that too much laughter can make your sides ache and you've got Avenue Q, A MUST SEE"
Radio 2
---
Avenue Q Uutiset
"The best musical of the decade" - Christopher Hart, Sunday Times. After a hugely successful run at the Gielgud, the eternally popular musical Avenue Q will move to the Wyndham's (almost back to where it ...
Lue lisää